| | | | |
| --- | --- | --- | --- |
| P1: Multiwavelength Studies of Low-Frequency Radio Transients | | | |
PhD student: Yi-Jung Yang
Start Date: Jan 2009
End Date: Dec 2012 (last year funded out of non-EU sources)
Responsible Advisor: Rudy Wijnands (Amsterdam)
Co-Advisors: Tom Maccarone (Southampton), Jörn Wilms (FAU Erlangen-Nuremberg)
Traditionally, multiwavelength studies of black holes in Galactic X-ray binaries occur when X-ray monitoring instruments on satellites around the Earth discover a new X-ray transient or a new outburst of a recurrent transient. Such multiwavelength observations have yielded great insights into those systems and the physical processes involved in the accretion of matter onto black holes and the ejection events of highly relativistic gas which often occurs during accretion. However, our understanding is fully biased toward those systems which have been discovered in the X-rays. This situation will change in the near future with the commissioning of the Low Frequency Array (LOFAR) in the Netherlands, from 2009-2010, and subsequent full operations. Using LOFAR, a dedicated radio sky monitoring program will be performed which will cover a large fraction of the sky to search for variable and transient radio sources. It is expected that many radio transients will be discovered, a large fraction of which will be associated with accreting black holes in binary systems. Most probably, the radio emission will come from outflowing jets of matter during the accretion process.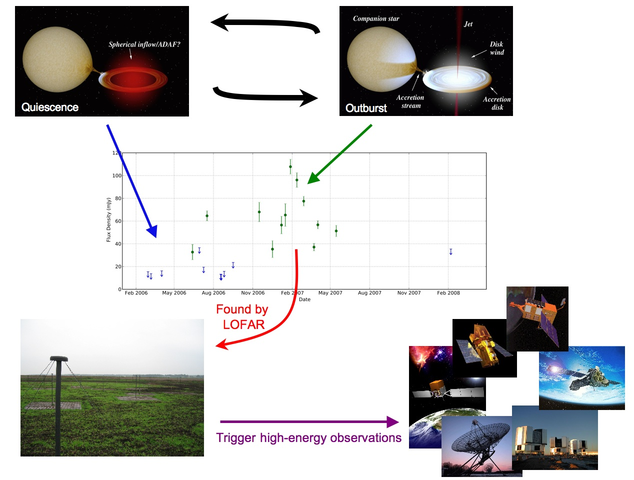 The aim of the project is to obtain, analyze and interpret data obtained at higher wavelengths (from higher frequency radio data to X-ray or even gamma-rays) to get insight in the nature of these radio discovered transients. Some systems will be bright X-ray sources as well and will resemble the classical, X-ray discovered, accreting black holes; other systems will have significant less emission at high energies and they might be accreting black holes which are dominated by ejection of matter instead of accretion of matter. The confirmation of such such outflow dominated systems is a prime goal of the project. The adviser Dr. Wijnands is a world expert in the astrophysics of accreting black holes and in obtaining high energy data of transient systems. Data have already been approved using the XMM-Newton and RXTE satellites for the first radio transients discovered with LOFAR. The student will spend time visiting Dr. Maccarone at Southampton for help in correlating the radio and high-energy properties of the radio transients and for comparison with the X-ray discovered sources. Visits to Prof. Wilms at FAU are also planned to work on the spectral energy distributions(which for the first time go down to very low radio frequencies) of the discovered sources.
An overview talk on the current state  of the project as presented at the Collaboration Meeting in September 2010 in Istanbul can be found here.
Related publications
Refereed
Other
none yet available
Fast Communications